About
The Bone Ensemble combines music and theatrical inventiveness with strong stories to elevate understanding, forge connections and inspire action. Characterised by a spirit of enquiry and collective endeavour, our work is both playful and serious, and looks to create spaces and experiences that span generations and connect with audiences, intellectually and emotionally, with heart and with humour.
The Bone Ensemble collaborates with theatre makers, partners, academics, experts and audience members in the making of our work.
The Bone Ensemble's work is an eclectic mix: from site responsive shows, to family theatre, to cabaret and open air productions in Danish piazzas, Austrian castles and on canal towpaths. Whilst our most recent touring productions have cemented our national reputation as accessible and meaningful children's theatre makers, The Bone Ensemble makes work for all ages, creating communities that feel newly connected to the world and to each other. 
Our Board of Trustees is Orit Azaz, Louisa Davies-Foley and Frances Land.
We regularly work with Justine Watkins-Fife at Delineate Design and Marketing for all our marketing needs.
GET IN TOUCH: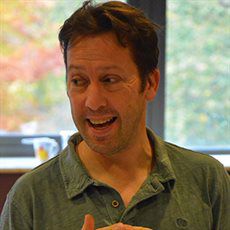 Adam Ledger trained at the Webber Douglas Academy, Rose Bruford College and completed a PhD in directing new work at the University of Exeter. He is Co-Artistic Director of The Bone Ensemble, where directing includes Gulp!, Caravania!,Where's My Igloo Gone?, The Car Park Show, A Stoke Scheherazade and Again (with Foursight Theatre); other directing includes Terrorism (Granary Theatre, Cork); Whoredom (Upstairs at the Clink, London); Tock-Tick and Big Bang (Ex Libris/Kazzum); Alice Through The Looking Glass (St Albans Festival); and projects internationally for the Kala Ghoda Festival (Mumbai), The Red Shoes (Czech Republic), and site-specific performance commissioned by the Humber Mouth Festival (Car Park Show No. 1) and in Austria (The Cheap Flight Show) and Denmark. Recent directing for drama schools and universities includes Pornography, Far Away, Advice to Iraqi Women, Lucas and Time, Revolt. She Said. Revolt Again, [Blank],Ice Cream, Women of Troy, The Secret Vice, and Fewer Emergencies. He is also a Reader in Theatre and Performance at the University of Birmingham.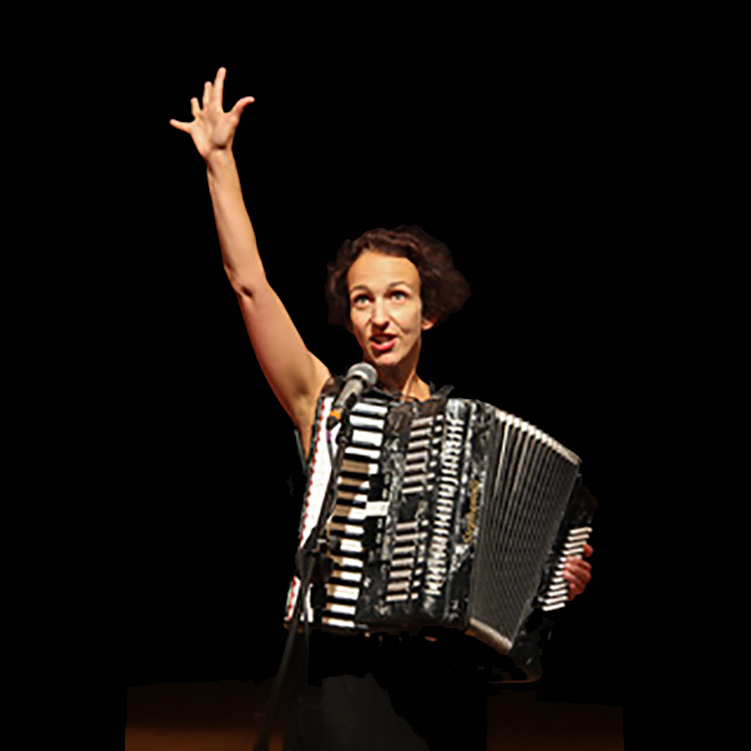 Jill Dowse is a theatre, voice and music practitioner. She trained in theatre at Exeter University, with Monika Pagneux in Paris and as a voice practitioner at the Central School of Speech & Drama. Jill has worked in theatre for the last 35 years, co-founding Foursight Theatre (1987-2012), with which she created and performed many shows, first as an artistic director and then as an associate artist. She has extensive experience in teaching drama, voice and performance at numerous universities, conservatoires and schools, and also as a songwriter.
Jill co-creates and performs in pretty much all of The Bone Ensemble's work, most recently as Misha and around 8 other characters and creatures in Gulp!
Her work and interests span a wide range of activity, from intimate pieces for adults (Bedtime Story) and families (Caravania!), to pieces for empty shop windows (Window Dressing, with The Windows Collective). Music is often an important ingredient in the work.
Songwriting commissions include Soundscape of Our City (Humber Mouth Festival); Thatcher: The Musical (Foursight Theatre), Again (The Bone Ensemble), The Snow Queen (Foursight Theatre) and Alice Through the Looking Glass (St Albans Festival, and she has MD'd various shows. Jill has also worked for companies including Red Shift, Theatre Alibi, Kindle (now KILN Ensemble) and Stan's Cafe.
As a freelance artist and actor-musician, recent tours include Library Lion and The Boy Who Bit Picasso (Untied Artists), and tours of Beyond the Water's Edge (MCP/Belgrade Theatre) and Disorder Contained (Talking Birds). In the last few years, other particularly enjoyable projects include co-creating and performing in Yvon Bonenfant's Uluzuzulalia (a playful interactive vocal environment for 6-10 year olds and their families), Frozen Light's The Forest (for PMLD audiences), Platform 4's Memory Points (at the South Bank Centre) and Invisible Music, an extraordinary multi-media piece based on the experience of hearing loss. Current projects include Platform 4's gig theatre adaptation of Day Of The Triffids.