ChocFest, our pop-up arts festival is coming to Bournville and Stirchley on Saturday 9 and Sunday 10 July, as part of the Birmingham 2022 Festival. Through performance, visual and audio installations and workshops, ChocFest takes a fresh look at the cocoa trade, from the good intentions of George Cadbury to the darker side of chocolate production, and from cocoa pod to that delicious bar of Dairy Milk in your hand.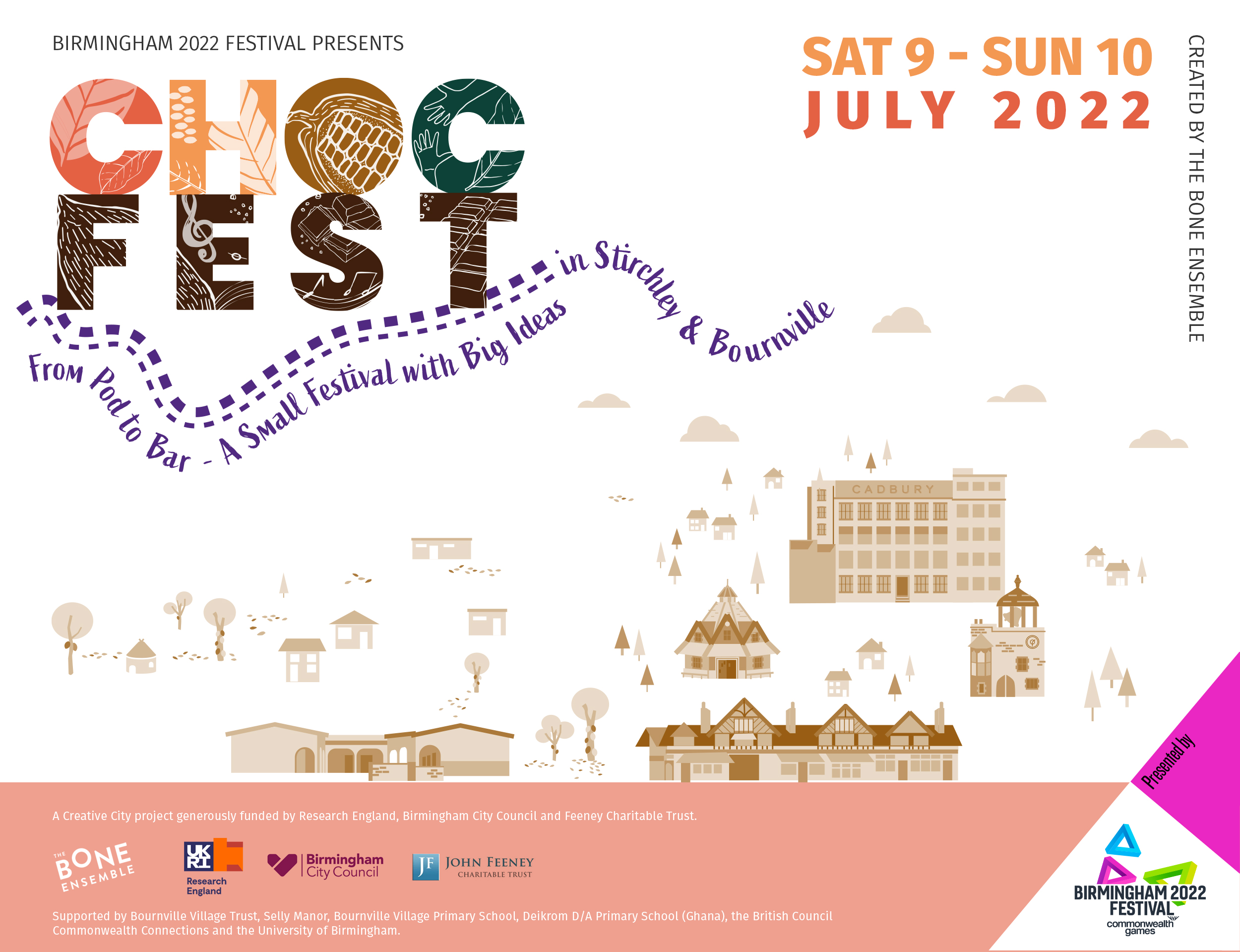 In collaboration with local communities and groups living and working in the vicinity of the Cadbury factory, as well as cocoa-growing communities and international artists from Ghana, ChocFest is a feast for the eyes and ears to get people meeting, talking and thinking all things chocolate!
ChocFest reignites and celebrates Bournville's historic connection with Ghana, the Commonwealth country where Cadbury's cocoa at the Bournville factory originates. At ChocFest's not-so-soft centre is a new cabaret-style show, with music created in collaboration with celebrated Ghanaian singer-songwriter St Beryl, performed by Ghanaian-Romanian musician and artist Wanlov the Kubolor, much loved Midlands artists Graeme Rose, Amy Kakoura and Jill Dowse, with special guest appearances from renowned djembefola, Vieux Bakayoko and our community performers.
Follow the ChocFest trail map, designed in collaboration with children from Bournville Village Primary School and Deikrom D/A Primary School, Ghana – to navigate your way through our tasty weekend! Check out the performances, film and audio installations and drop-in workshops in and around Stirchley Baths, Selly Manor and Bournville Village Green – oh, and don't forget to sample some sweet treats along the way, and maybe even a chocolate stout?
All free and un-ticketed. Suitable for ages 9 and upwards. Please note some sites are limited capacity and will be on a first come first serve basis.
Download your ChocFest Map via the button, or check out our timetables of performances and activities below.
The route between our two performance sites for Chocolate the Cabaret! is fully accessible with no steps and we think the stroll should take you somewhere between 20 – 40 minutes, depending on your pace.
In case of wet weather, keep a look out here and on our social media platforms for updates.
Feel free to bring a picnic blanket or cushion to sit on for the outdoor performance at Bournville Village Green.
We'd love to know what you thought about ChocFest!
ChocFest is a part of Birmingham 2022 Festival programme and as such the Festival is gathering everyone's thoughts about the events to help shape their programe and work.
To complete the very short survey, please click here.
The festival has been designed in consultation and collaboration with a number of groups and organisations from the local communities living and working in Bournville and Stirchley, as well as the cocoa-growing communities from Ghana including:
Children from Bournville Village Primary School &
Deikrom D/A Primary School, Ghana
Amankwatia Cooperative Society Cocoa Farmers' 
Leaf Creative Arts Memory Cafe and Rowheath House
Crunch Writers Group
Check out some of the artwork and images from the project below:
A Creative City Project generously funded by Research England, Trust Birmingham City Council and Feeney Charitable Trust
Supported by Bournville Village Trust, Selly Manor, Bournville Village Primary School, Deikrom D/A Primary School, Ghana, the British Council Commonwealth Connections and the University of Birmingham.